Here's why that's important:
There's no question that the industry is in recovery mode. It has been 2 years of battling a global pandemic and countless other issues. But we're not here to talk about the doom and gloom, we're here to talk about positives.
Recently while attending Venues of Excellence our head of UK sales , Maria Macree experienced a seminar by Kate Nicole, the UK CEO for hospitality at VOE; in which she pointed out the Daily Delegate Rate (DDR) was the highest it has been in London in 10 years, at just over £69.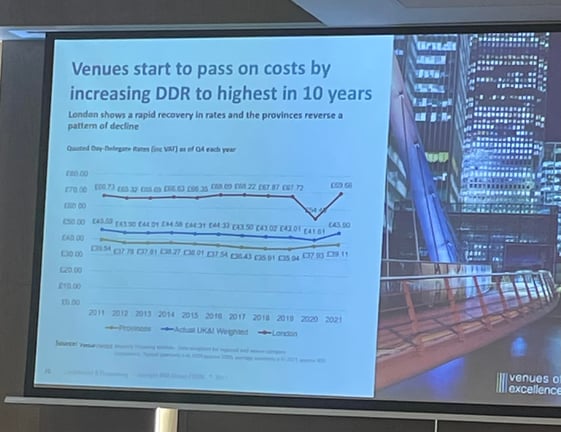 Excerpt from Kate Nicole's presentation depicting DDR increase
We aren't going to talk about DDR itself, what we're going to talk about is what it means for the future of the industry, especially in London. For starters it shows that that the events industry is making a strong comeback.
The last two years have been tough and it can be hard to see the positives when there has been so much doom and gloom. But the current upward movement of DDR shows a bright future for UK hospitality, especially in London.
"Though the North of the UK, and some areas of the South, are still seeing a slower return and less room rates, it's prominent because it gives a lot of reassurance to operators about the future of the industry," Maria Macree - Head of Sales UK at iVvy.
"Off the back of all the negativity, the industry, especially the MICE industry has been slow to react.
"Over a 2 year pandemic, we have seen the peaks and troughs but to now be selling be at over £69 should inspire a lot of confidence," Maria Macree.
So what should operators do with this information? Well for one you should start operating with more confidence. This upwards trend is unlikely to to go down any time soon, so take advantage of it.
If you haven't already, change your mindset and increase your marketing to make the most of every space you have available. This is the most London venues have been charging in a decade so it's the perfect time to put the woes of the last two years behind you. Market well, get people through the doors, and start increasing revenue; there's no time like the present. Furthermore, make sure you have the systems in place, for example a venue or event management system such as iVvy, to make the most of the increase. Implementing a smart business strategy which takes advantage of the increase in DDR has the potential to lead to a very successful future for your business.