Hilton's third-annual travel trends report was released last week. Through a global survey of over 10,000 travellers, video diaries with 60 U.S. travellers, and interviews with Hilton travel insiders, the report uncovers four themes that will drive change and innovation in travel beyond 2024. It provides insights into the preferences and perspectives of different generations, from digital-native Gen Z to seasoned Baby Boomers.
Continue reading to explore the projected travel trends for 2024, and discover how your hotel can proactively stay ahead by making the necessary preparations.
Business Travel Gets a Fresh New Look

From changing business dynamics to the evolving nature of work itself, we've witnessed dramatic shifts in when, where, and how people conduct business. These changes have given rise to new trends that have only grown stronger.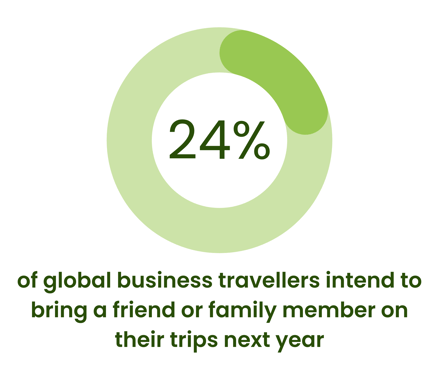 Blended leisure and business travel have become the norm, with people extending their stays and exploring secondary markets for meetings and events.
Interestingly, more than a third of Gen Z and Millennial business travellers now plan to mix business with pleasure, while 24% of global business travellers intend to bring along a friend or family member on their trips next year.
In a world that's constantly evolving, it's exciting to see how work and leisure are intertwining to create unique experiences for professionals across the globe.
Cater to demand by offering flexible and dynamic workspaces within your hotel. With the line between work and leisure blurring, professionals are looking for hotels that provide not just comfortable accommodations but also versatile spaces where they can conduct meetings, collaborate on projects, or work remotely.
Consider areas in your hotel that can be transformed into coworking spaces equipped with high-speed internet, ergonomic furniture, and tech amenities. This allows business travellers to seamlessly transition between work and relaxation, making the most of their stay. Advertising any available private meeting rooms and event space packages can also appeal to business professionals, making it easier to host conferences and seminars on-site.
Furthermore, consider the mental and physical needs of business travellers to integrate more wellness offerings into business stays. This can include fitness centres, spa facilities, healthier meal choices, grab-and-go options, and flexible dining hours to accommodate different schedules and dietary preferences.
Travel Will Become Driven By Experience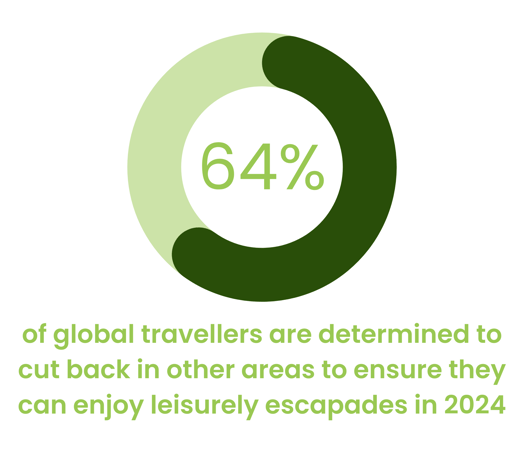 When travelling, there's nothing quite like indulging in delicious dining, immersing yourself in vibrant culture, and forging meaningful connections.
These experiences ignite our wanderlust and make us prioritise moments over material possessions - and survey results show that we are willing to invest more in it. 64% of global travellers are determined to cut back in other areas to ensure they can enjoy leisurely escapades in 2024.
As travellers plan budgets for the upcoming year, it's clear that gastronomic adventures are at the top of the list. 47% of us are also eagerly seeking thrilling exploits and adventurous escapades.
Gen Zers and Millennials are leading the way by allocating a generous portion of their budgets to cater to these experiences.
Capitalise by rethinking the traditional approach to hospitality. Consider how your hotel can create immersive guest experiences while celebrating the local culture. Options like partnering with local producers and communities will enable you to curate personalised itineraries for your guests. And of course, don't forget to provide access to unique experiences and authentic regional cuisine.

Don't overlook technological advancements either. Smart room features, instant booking engines, and hotel apps can bring convenience and enhance the overall personalised guest experience.

Furthermore, why not design your hotel's common areas as social hubs where guests can meet fellow adventurers, share their stories, and plan future journeys together? This adds a whole new dimension to the travel experience, making it even more enriching and memorable for your guests.
Investing in Sleep: The Traveller's Secret Weapon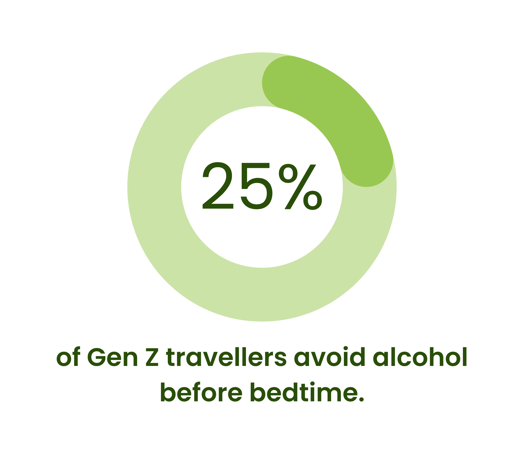 Personal wellness takes centre stage, especially when it comes to a good night's sleep on the go. After the challenges of recent times, the desire for rest has skyrocketed, leading to a surge in travellers prioritising quality sleep.
Hilton predicts that 2024 will witness an increased desire to connect with brands and products that align with this zen mindset.
Among the sleep-savvy, Gen Zers take the crown with their intentional wind-down routine. They make conscious choices throughout the day that impact the quality of their slumber. 21% diligently regulate their workout routine, while 25% skip the nightcap for a good night's rest.
To cater to the increasing demand for quality rest and enhance the overall wellness experience of your guests, it is important to offer a diverse range of products and services that promote health and well-being. Let your imagination soar and think outside the box to provide unique and memorable offerings.
For example, provide guests with luxurious bath bombs infused with soothing essential oils and a selection of herbal teas to create a relaxing and rejuvenating in-room experience.
To further promote wellness, consider offering on-site fitness classes tailored to different fitness levels and preferences. These classes can range from yoga and meditation sessions to high-intensity workouts, providing guests with opportunities to maintain their exercise routines and prioritize physical well-being during their stay.


Enhance the sleep experience by creating optional room upgrades or add-ons to include blackout curtains, in-room massages, and spa experiences within the hotel. By prioritising the well-being of your guests and providing them with a diverse range of products and services, you can create a truly holistic and rejuvenating experience.
Continued Demand for Personalisation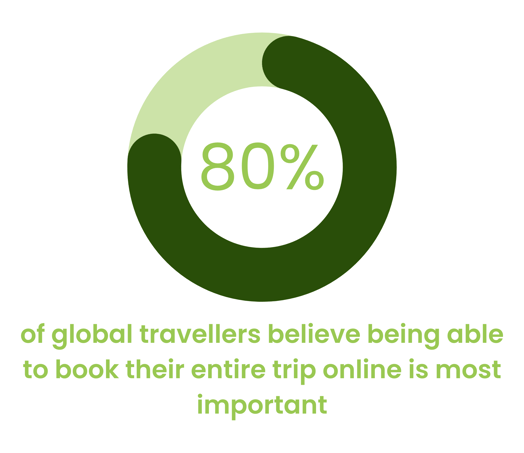 In 2024, expect travellers to crave nothing less than extraordinary and seamless experiences tailored precisely to their preferences. From hassle-free online booking to personalised on-site adventures, it's all about treating every wanderlust-filled heart to unforgettable journeys.
According to survey results, 80% of global travellers agree that being able to book their entire trip online is of utmost importance. Leading the charge are the innovative Millennials and the adventurous Gen Zers, with a staggering 86% and 83% respectively.
And that's not all - 76% of globetrotters commend travel apps that effortlessly reduce the stress and friction of exploration.
Leverage your hotel data by utilising visitor information from your Customer Relationship Management (CRM) system. By doing so, you can create personalised and memorable moments for your guests, starting from the moment they make their booking and continuing even after they check out.

Consider various data points available in your CRM, such as the duration and purpose of their stay, travel companions, preferences, and past purchases. If, for example, you know that a guest is staying with you for a special occasion, such as a birthday or anniversary, surprise them with a personalised welcome amenity or a complimentary upgrade to make their stay even more special. If a guest has previously expressed a preference for a certain type of room or specific amenities, ensure those same preferences are met during their stay.

For families, offer family-friendly amenities or provide information on nearby attractions; for couples, romantic packages or recommendations for intimate dining experiences, and for solo travellers, suggest social activities or networking events within your hotel or in the surrounding area.

By analysing past purchase history, you can identify guest preferences for dining, spa treatments, or other services. This information can help you tailor your promotional offers or create personalised packages that cater specifically to each guest's interests.
Preparing Your Hotel for Greater Guest Satisfaction in 2024
Looking ahead, Hilton's latest trends report paints a vivid picture of how travel and hospitality are evolving. We're seeing a merging of work and leisure, with experience-driven journeys becoming the new norm.
For hotels like yours, it's all about proactively adapting and thriving by embracing these shifts. By meeting changing guest expectations and delivering extraordinary experiences, your hotel becomes more than just a place to stay. It becomes a destination in itself, where travellers can live, work, explore, and connect in ways that redefine the whole travel experience.