Can you believe it's come around so quickly? Christmas is just around the corner, which means it's time to start thinking about corporate Christmas parties. If you're in charge of the perfect venue in Melbourne, you're in luck. This year, there are plenty of great options to choose from. Here are a handful of Melbourne venues perfect for celebrating the silly season with your co-workers.
The Duke of Wellington
The Duke of Wellington is a Melbourne institution. This grand old hotel has been restored to its former glory and boasts an impressive array of event spaces, from the opulent Grand Ballroom to the more intimate Library Bar. There's something to suit every taste and budget at The Duke. Lunch, dinner, and cocktail packages are all available, whether you're after a corporate Christmas lunch gathering, or opting for festive cocktails and canapes.
Trinket
Trinket is a new kid on the block, but don't let that fool you. This restaurant and bar has already made a big impression with its inventive menu and stylish decor. Trinket is the perfect choice for those looking to impress their guests with something a little different. An eclectic cocktail lounge full of sparkle, glamour and old-world vintage charm, this Melbourne party venue is unique and intimate, perfect for Christmas cocktails by an open fire, or enjoying champagne and canapes on luxurious velvet furnishings.
Ms Collins
Ms Collins is another popular choice for corporate Christmas parties. This chic venue offers a variety of event spaces, including a beautiful outdoor garden area. Ms Collins is also renowned for its cocktails, so be sure to try one (or two!) while you're there.
Featuring some of Melbourne's most highly coveted dishes with a twist, Ms Collins' menu features a selection of pan Asian and contemporary Australian cuisine. From whole venue bookings to smaller groups, Ms Collins has up to 12 different rooms and spaces that can be closed off for your corporate Christmas event. This includes the Dom Perignon Champagne Bar, The Ballroom and Little Ms Collins.
Hopscotch
Hopscotch is the perfect Christmas party venue for those who want to let their hair down and have a good time. This fun bar offers a variety of games, including darts and pool, as well as a delicious food menu. The onsite microbrewery churns out boutique batches, prepared by local brewers, complemented by an impressive selection of cocktails and a menu of street food designed for sharing. Hopscotch's floor-to-ceiling glass doors, river terrace and beer garden make it a perfect venue for enjoying the fresh air and Melbourne City skyline.
The Crafty Squire
The Crafty Squire is a great option for those looking for a more relaxed vibe for a work Christmas party. This pub is famous for its excellent range of beers, but it also has an impressive food menu. With plenty of TVs showing all the latest sports action, The Crafty Squire is fitting for smaller or more casual corporate Christmas gatherings. A selection of lunch, dinner and cocktail menus are also available.
The Mint Bar
The Mint Bar is one of Melbourne's most popular bars, and it's easy to see why. A heritage-listed building that flows into an outdoor beer garden, this stylish venue offers stunning city views complemented with festoon lighting, planter boxes, and walls of greenery (meaning little decorating is required!). The Mint Bar has a range of indoor and outdoor spaces to choose from, with a wide selection of canape menus, share platters, and set menus to suit your party needs.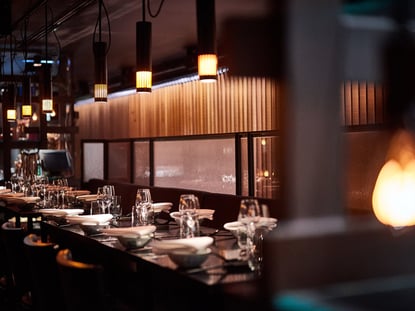 Spice Temple Melbourne
Spice Temple is a must-visit for any Melbourne corporate Christmas partygoers with a penchant for spice and style. Spread over two levels, the dining spaces of Spice Temple are warm and dramatically lit which creates both an intimate and relaxed atmosphere.
Driven by chef Neil Perry's long-fostered passion for Asian cuisine, the menu offers an array of authentic Chinese dishes that are sure to tantalise your taste buds.
Ludlow Bar & Dining Room
Ludlow Bar & Dining Room is another great option if you're looking for amazing views of the cityscape whilst sipping on delicious Christmas cocktails. This rooftop bar also offers an excellent range of sharing plates if you get peckish whilst enjoying the view. Ludlow's flexible design offers up to 20 different function areas to choose from and can accommodate groups of 10 - 700. From a well-appointed dining room and large open plan event spaces to private lounge bars and intimate private dining rooms, Ludlow can cater to all sorts of festive gatherings.
Hophaus
Hophaus is Munich taken over Melbourne – schnitzels & steins included! The food menu boasts all sorts of incredible Bavarian staples like pork knuckle & pretzels served with beer mustard as well as plenty more share-friendly items like charcuterie boards piled high with meats & cheeses. Of course, no corporate Christmas party would be complete without beer so make sure to fill up your steins at Hophaus – they have over 40 German & local beers on tap. If beer's not your thing then they also have an extensive wine list featuring some fantastic German Riesling's (perfect match for their Weisswurst sausage).
Henry & the Fox
Located in Richmond's trendy Swan Street precinct, Henry & The Fox offers classic European fare such as wood-fired pizzas & portions of pasta, as well as some great share plates like Arancini balls served with tomato sugo & housemade garlic bread or Angus beef sliders with aged cheddar cheese, house smoked bacon, pickles & BBQ sauce. With an impressive range of European beers, local craft brews & wine plus classic cocktails (try their take on an Aperol Spritz), Henry & The Fox will definitely have something to keep everyone happy this festive season.
Whatever type of corporate Christmas party you're planning, there's a perfect venue to suit your needs. For more of what Melbourne has to offer, head to iVvy Marketplace to discover a huge range of venues for events of all sizes.
Subscribe & Stay Updated
Keep up to date with the latest news and developments in the events, venues, and hospitality sector. '
Sign up for the iVvy newsletter today.