How are you creating novel experiences for your attendees? It may be through highly interactive sessions, more actionable seminars or even greater focus on post-conference connections. Many in the industry are looking now more than ever to novel and innovative solutions to re-engage and re-launch the large live events sector, with plenty of attendees returning to the show floor for the first time in nearly two years. Event planners and venue managers are aiming to impress and stake their claim as the best way for brands to connect with audiences and for attendees to develop lasting and beneficial connections. Events are turning to technical innovations to bring back a sense of wonder for attendees, experiencing cutting edge technology before it becomes another fixture and asking how we can think sideways and use technology in unexpected ways.
AI Registration
Paper-based registration is a relic of the past and clunky electronic registration systems are starting to look dated with many attendees now acclimatised to expect at a minimum QR code driven self-check-in. In the near future large conferences and events are looking to use touchless kiosks with facial recognition AI to register attendees, creating tags and NFC bands personalized for each participant allowing access to specific areas of the floor, this may be rolled out in a similar way to e-passports used in airports, this method could also be utilised to automatically and discreetly check the attendee's vaccination status as well, a requirement in many regions.
AR Expanded Booths
While there was much buzz around pre-pandemic about the influence Virtual Reality (VR) would have on live events in the future this has largely fizzled due in large part that VR requires expensive and very hard to sanitize headsets. Taking its place for the foreseeable future is on device Augmented Reality (AR) a much more practical alternative, attendees use their own device pointed at a booth to interact with parts of the booth only visible through the device's camera. Event managers can accommodate this experience by integrating an AR lens function into the event App and then allowing all booth holders to utilise it to create unique experiences.
Projection Mapping
A crowd favourite certain to add "wow" factor to almost any event, projection mapping has been in use for a number of years, carefully crafting and aligning projections to fit on any number of indoor or outdoor spaces, sometimes on a massive scale. Lately, the tech has been seeing renewed innovation with the addition of interactivity taking it from spectacle to a much more personal experience, allowing attendees to see their actions ripple out and alter elaborate custom built digital environments being generated and projected in real-time. This tech has been used to gamify large empty spaces, reimagine classic architecture or even create a true spectacle out of a gala dinner, activating the tables as an interactive and memorable experience.
Digital Business Cards
One for attendees, with a greater push by events for a contactless, lower waste approach it's making less sense to hand out pieces of cardboard with your details scratched into it. iVvy has recently issued touchless digital business cards for sales staff to ensure they can safely share details at conferences, these cards use both NFC chips and QR codes to ensure the ability to share details with any device. Sales staff are also given a handy QR code sticker to affix to the back of their phone that provides contact details when scanned. Event planners may even have the opportunity to take this one step further in the future by integrating the feature into attendees wristbands to make creating connections as seamless as possible.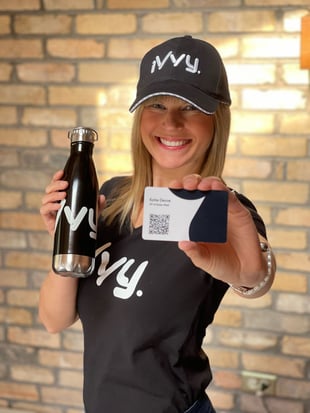 Getting The Basics Right
While it's always fun to learn about novel experiences and invent creative uses for them it's important to remember that organisers need to ensure a focus on the core aspects at the heart of their planning. By utilising a modern platform such as iVvy to keep a track of attendees, catering, sessions, AV needs and ticketing, venue and event managers can ensure that essentials are met, freeing them to focus on novel and innovative activations to keep attendees coming back year after year.
For more information on how venue management platforms like iVvy can help your organisation why not join us for a no-obligation live demonstration?