Amidst the peak of the pandemic, Zoom became the new workplace. Calls replaced meetings, and flexibility that was once unprecedented in many offices became standard. Now stepping into the events scene with a brand new product suite, Zoom now has the ability to create virtual and hybrid event experiences.
iVvy had the opportunity to chat with Catalina Woodward, Zoom Events & Webinar Specialist. We spoke about the balancing act of hybrid event attendance, collecting and using the right event data, hybrid challenges, and the introduction of Zoom Events.
How is the hybrid event experience different from a virtual event?
Within a 100% virtual event experience, your entire audience is having the exact same experience. Therefore, the key difference for event organisers is that within a hybrid event, you have two audiences to consider – your physical and virtual audience. And from an attendee's point of view, they could potentially have two very different experiences coming to your event, depending on whether they attend virtually or in person. In a hybrid event, it's important for an organiser to think about ways to connect the two different audiences so they can benefit from the larger networking environment.
What are some best practices for hybrid event engagement? How can event organisers keep the balance and ensure online attendees get the same quality of experience?
I think the first thing event organisers need to consider is their overall event program and identify the best format for each of the events they are planning. What we are finding with our customers is that some events are genuinely better to run in-person, and others completely virtual.
For those in between, I think most people tend to see hybrid as running a live event simultaneously to an in-person and virtual audience. If you do choose to do it this way, considering the experience of both your audiences is paramount – how can you make it engaging not just for the people that are there physically but also for your virtual attendees? Choosing the right virtual event platform can support in the creation of an online experience that is just as rich for virtual attendees and gives them the opportunity to meet, see and interact with others also attending the event so they don't feel isolated.
Equally though, it's important to remember that 'hybrid' can mean so many things. For example, you may choose to run a physical event first, record the content and presentations and then deliver a second version of the event virtually afterwards. With tools like our upcoming 'Simulive' feature, you can even deliver this pre-recorded content so that to an attendee it feels as though they are watching it live, and they can answer polls, ask questions on the fly and network with other attendees.
Zoom's vision for the future of events and webinars is creating both an interactive and equitable experience regardless of if you choose to attend in person or virtually.


How can event organisers best use analytics to determine hybrid event success? What are the key analytics that should be tracked?
One of the greatest benefits of taking your events virtual is the incredible data you can glean to drill down on the success of your event. For example, what sessions were attendees most engaged with, which businesses did they download information from, and which social platforms drove the most registrations?
In today's world, data is one of the most valuable assets. And in the virtual event world, we often find this taking the form of actionable leads reporting for your event sponsors to help demonstrate ROI. Or reporting on attendee registration, attendance and in-session participation to facilitate more meaningful follow-ups from your sales team. It also commonly powers compliance by tracking the duration spent in a live session or watching a recording for training and certification purposes – incredibly important when it comes to healthcare or professional services.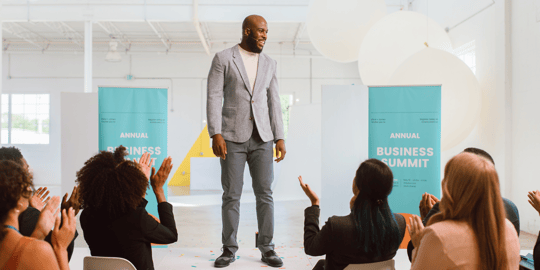 No longer do you have to rely solely on post-event surveys or feedback forms to understand engagement, this is all tracked automatically and informs event organisers on how best they might engage in conversations with attendees post-event.
And with Zoom Events, you can easily share out the analytics dashboard with team members so anyone who needs the data has it at their fingertips.
What are some of the key challenges of hybrid events, and what can organisers to do mitigate or overcome these challenges?
The main challenge that we hear from our customers is how labour-intensive it is running a version of hybrid where your physical and virtual event happens simultaneously. It's like planning and executing two events at once. My two key tips are to select a virtual event platform that is easy to use and scalable across your business. And it shouldn't just be easy to use for those whose primary role is to be an event organiser, but for anyone. This in turn allows organisations to deploy the same technology across their business and keep that virtual event experience consistently elevated and standardised for both your organisers and attendees.
The second biggest challenge is the experience - how to keep a virtual audience feeling like they are not second tier to the in-person audience, how to let the in-person audience know that there is a whole virtual contingent surrounding them, and how your two audiences can interact. Again, choosing the right technology will give you the ability to keep the experience equitable, but also combining this with a fantastic event support team behind the scenes is paramount. Our Zoom Event Services team for example provide our customers with the technical knowledge and experience in creating new and exciting ways to bring your audiences together. You only ever get one chance at delivering an event so having the right support and resources behind you on the day is key.
As an example, we recently ran our largest annual Zoomtopia customer event which brings together tens of thousands of people globally. This year was our first-ever hybrid Zoomtopia and it was a smashing success because of the amazing collaboration between our Zoom Events product and Zoom Event Services support team. There was actually a fantastic session during this event where we discuss all of these topics called "Reimagine Hybrid Events" and I'd invite all those reading this to watch the recording here.
Finally, tell us more about Zoom Events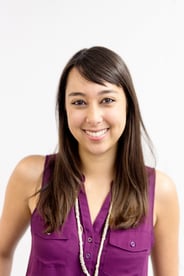 I could talk about Zoom Events all day! In fact, I do – it's my job to do. But to put it in a nutshell, Zoom Events allows you to seamlessly create and manage virtual and hybrid events of any size or scope.
It's built on Zoom's reliable and secure video technology, so for those people who feel like "Zoom just works" and love the audio and video quality you get in a Zoom meeting or webinar – that is exactly what you can expect from Zoom Events.
The key difference is that with Zoom Events you have access to showcase and promote your brand, leverage sophisticated in-built registration capabilities, build multi-session, multi-day or concurrent track events, foster connections through virtual expos or attendee networking and truly assess the success of your event with detailed reporting and analytics dashboards. Even if you haven't used Zoom much, one of our biggest accomplishments is how easy and intuitive we have developed the system to be.
For more information on Zoom Events, contact Catalina at catalina.woodward@zoom.us or visit the Zoom Events website
Get all the latest news and advice in venue and event management delivered to your inbox.