In a rapid trajectory exacerbated by a quick shift to working from home, cloud-based software and services are now used by 94% of all enterprises, including hospitality venues. It's now more important than ever for venue operators to have a finger on the pulse of what's happening in their business at all times. Unfortunately, this can be difficult to do when relying on traditional methods of management and communication. Enter cloud-based software.
Cloud-based software provides a number of benefits for both employers and employees in the hospitality industry. For employers, cloud-based software can help to better manage staff members and business operations. For employees, cloud-based software can provide a means of communication and collaboration with co-workers. In either case, cloud-based software can help to improve productivity and efficiency in the workplace.
The following are just a few ways in which cloud-based software can help hospitality venue operators better manage staff members & business:
Greater security measures
Remote working lends itself to far greater means of flexibility than ever before. Unfortunately, it can also open the doors to unwelcome online visitors looking to make their way into your business. With the average cost of a data breach now costing businesses an average of $3.96 million, business owners are turning to cloud-based solutions for greater investment in security.
Significantly more efficient than in-house security measures, cloud-based software solutions offer built-in security features that can help protect sensitive employee data from a range of cyber threats, including hacking and phishing attacks. Using encryption, your business information in cloud storage becomes less accessible by non-authorised sources, giving you the added benefit of contributing to greater government compliance requirements. Being backed up, protected, and safely secured in the cloud means your information is also safeguarded from unexpected power outages or disruption.
Increased collaboration
Cloud-based software provides a platform for effective communication between employers and employees. With instant messaging, video conferencing, and file-sharing capabilities, employers and employees can stay connected no matter where they are in the world. This is particularly beneficial for venues that have multiple locations or that rely heavily on remote workers.
By leveraging the power of the cloud, businesses can also gain access to an almost unlimited amount of storage and computing power. This means that employees can work smarter and faster, without having to worry about running out of space or resources. As a result, businesses that use cloud-based software often see an increase in productivity levels.
Perhaps most notably, cloud-based solutions make both internal and external communication and collaboration simpler and more efficient. For hospitality venues hosting on-site events, employees can easily connect with each other to provide real-time updates or get feedback. This can be incredibly beneficial for team members who are frequently travelling or working remotely, and for workers across different departments.
Cost-saving
Did you know that companies can save an average of 15% on all IT costs by migrating to cloud-based software?
Cloud-based software is paid per usage of cloud infrastructure. This can be easily scaled up or down, depending on your changing business needs. Ultimately, your venue will be saving costs on maintenance (the cloud-service provider takes care of this), as well as not spending money on services that aren't being used. This pay-as-you-go model has given more small and medium sized venues to ability to embrace technology previously only available to large multinational companies. As secure cloud infrastructure is also used, operational costs are further minimised by not having to invest in hardware for data protection measures.
Cost-saving is not just limited to IT however. Having your venue management system operating with cloud-based software, data and applications can be accessed by employees from home. This can reduce costs associated with rent and utilities.
Flexibility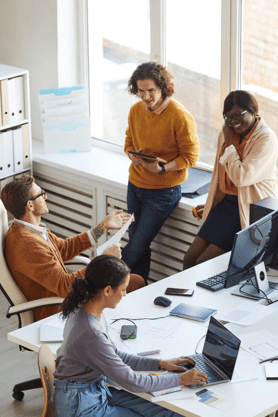 One of the greatest benefits of cloud-based software is its all-in-one management capabilities. Hospitality and venue managers can log into a central management system to get a comprehensive view of a venue's operations, all updated in real-time. Multiple users can be logged into the venue management system at the same time, and can be accessed from anywhere with an internet connection. This flexibility allows venue managers to work on their events from any location and on any device, whether they are at home, in the office, or on the go. Additionally, cloud-based software updates automatically, so users always have access to the latest version of the software. This ensures that hospitality and venue managers always have the latest features and tools at their disposal to help them plan and manage on-site events.
Advanced insights
Cloud-based software makes it easier to track employee performance and identify areas where improvement is needed. With all of your data stored in one place, it's simple to run reports and generate data-driven insights that can help you make more informed decisions about your business.
Cloud-based software designed for event managers and venue managers can also provide valuable data insights into attendee behaviour and interactions. Reporting and custom reports can help staff members to determine the most popular types of event or venue packages and how impactful certain marketing collateral have been, as well as dig deeper into guest preferences, and booking patterns, and provide crucial information for business forecasting.
Quality control
Lastly, cloud-based venue management software solutions offer greater quality control than on-premise solutions. With an on-premise solution, updates and changes need to be made manually by your team. This can lead to inconsistency and errors. With a cloud-based solution, all updates and changes are made automatically, ensuring that your venue is always running the latest version of the software. This leads to a higher quality event experience for your attendees.
A worthy investment
Cloud-based software has revolutionised how we do business, and hospitality and venue management is no exception. By moving to a cloud-based software solution, venues can enjoy a number of benefits, including increased efficiency, streamlined workflows, reduced operating costs, greater flexibility and easier collaboration between team members. So if you're looking for a way to improve your event planning process, consider using cloud-based venue management software. It could be the solution you've been searching for.

Sign up for your free iVvy newsletter, and get the latest news, interviews, and practical resources in venue and event management delivered to your inbox every 6 weeks.